Oscars 2016
Hey loves!
How was your weekend?
Last night the Oscars were all the buzz. Everyone wanted to see either what the fashion was, or what Chris Rock was going to say (no I did not watch) I was at work(lol). There was a lot of controversy surrounding the Oscars this year because there were a bunch of snubs to actors of colors. I think Chris Rock address the elephant in the room perfectly. Rock opened the Oscars by stating
"Well, I'm here at the Academy Awards,"Otherwise known as the White People's Choice Awards. If they nominated the host, I wouldn't even get this job. You'd be watching Neil Patrick Harris right now."
"Everyone kept telling me, Chris you should boycott, you should quit. But how come it's only unemployed people to tell you to quit something? No one with a job tells you to quit," he continued.
(Dead af he told them, you know who you are (😂👏🏾) )
"They're gonna have the Oscars anyway, they're not going to cancel the Oscars because I quit—I don't want to lose another job to Kevin Hart."
After the laughs, Rocks went for it not holding backing
"Why are we protesting? Why *this* Oscars? It's the 88th Academy Awards. Which means, this whole no black nominees thing has happened at least 71 other times. You gotta figure that obviously happened in the 50s, 60s, in the years Sidney [Poitier] didn't put out a movie. I'm sure there were no black nominees that year. Because we had real things to protest at the time. We were too busy being raped and lynched to care about the Best Cinematography. When your grandma is swinging from a tree, it's a bad time to care about The Best Foreign Documentary Short."
(OMG. (😵) Seriously, eye opening for anyone to hear. He even made me move a little uncomfortably in my sit and I'm black)
Following that, he went after " the boycott"
"Jada went mad, Will went mad—Jada said she's not coming, but…is she on a TV show?" he said. "Jada boycotting the Oscars is like me boycotting Rihanna's panties—I wasn't invited! But I understand you're mad. Her man was not nominated for Concussion, I get it. It's not fair he was paid 20 million for Wild Wild West, okay?"
( He was throwing major shade at the smiths whether he intended to or not (🐸☕️) Then the metaphor about Rihanna's panties had me like 😳🙄
what are you talking about come on you were doing so well (🙄).  Sidenote I saw Concussion and I tried to to like the movie, but it was a borefest (no shade). I love football and learning more about what goes behind the scenes, but that movie seriously was not the move (it had barely any comic relief; it was just dry and straight to the point (😪). The comment about the Wild Wild West went completely over my mind, I did catch references to. After I googled, I found out it was the title of a movie Smith acted in before my time.)
"This year, this Oscars, things are going to be a little different, in the 'In Memoriam,' black people who were shot by the cops on their way to the movies. Yes, yes, I said it. If you want black nominees, every year, you need to have just black categories. You already do it with men and women," Rock continued.
"Is Hollywood racist? You know, you gotta go at it the right way. Is it 'burning cross' racist? Is it 'fetch me lemonade' racist? No, it's a different type of racist. They're sorority racist. They're 'We like you Rhonda, but you're not a Kappa.' But things are changing. We gotta black Rocky this year. Yeah, some people call it Creed, I call it Black Rocky. Because Rocky takes place in a world where white athletes are as good as black athletes—it's a sci-fi movie."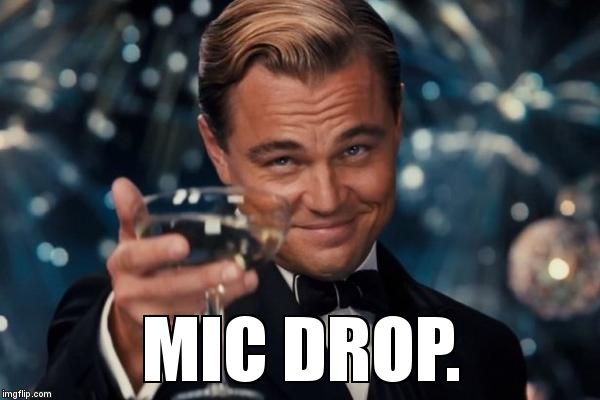 Now that the joke are over; Rock got down to business and address the issue of prejudice in Hollywood  
"But what I'm trying to say is, you know, it's not about boycotting anything, it's just, we want opportunity. We want the black actors to get the same opportunities as white actors. That's it. That's it. You know? Just—you know, not just once, you know? Leo gets a great part every year, and all you guys get great parts every time. Jamie Foxx, he's one of the best actors in the world, Jamie Foxx was so good in Ray, that they went to the hospital and unplugged the real Ray Charles, was like we don't need two of these. But everything's not about race. You're not allowed to ask women what they're wearing anymore. Ask Her More, you have to ask her more. You could ask the men more! Everything's not racism, it's not always sexism. They ask the men more because all the guys are wearing the same thing!"
*Snaps Snaps* Rock you did that!
Ps. Checkout 👇
Leave Comments & Re-blog posts 😊!
Trending (updated daily)
Stylin' Like Me (updated once a week)
I Nailed That (updated when I get my nails done)
Asya Dishing Out the Issues (updated every time I get my Teen Vogue delivered)
Get social with me here's my links👇
Instagram-http://instagram.com/asyamcdonald/
Youtube-Youtube.com/c/AsyaMcdonald
Snapchat- asya_mac (post daily 😝 )
-Caution to the wind